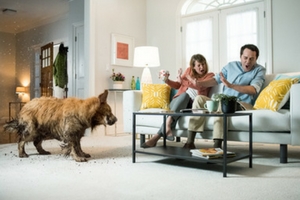 When it comes to flooring, there is a world of possibilities to choose from. The variety of choices among soft surface and hard surface products can make the process a difficult one. The flooring experts at Carpet One Floor & Home in Jacksonville, Saint Augustine, and Orange Park are ready to guide you in your decision. If you are considering carpet because you love the comfort they provide, you should check out one of the most popular brands we carry at our store, Lees. "Lees" and "quality carpet" have been synonymous for over 150 years. Lees combines unique manufacturing techniques with the strongest carpet fibers offering a product like no other. One of their most distinctive features is their exclusive Ultra 25 4X no exclusions promise. This means is that you get four times liquid and stain protection in your carpet.
What can I expect from Lees?
Covered under our Titanium warranty, Lees is all you need to enjoy complete peace of mind. Their Ultra 25 4X Scotchgard protection repels most liquids including juice, coffee, and other spills. Lees protection runs all the way through, from the top to bottom of the carpet fibers, optimizing the life of the carpet and enhancing the ease of maintenance. Lees patented "ExtraLoc" backing has double the density of standard carpet construction, offering a unique stability and dimensional strength. This minimizes the opportunity for delamination; which means that the carpet will not pull away from its backing. The additional warranty for pets and stairs is one attractive that sets them apart from the competition. Another significant advantage of Lee's is their transferable warranty. For example, if you sell your home, the next homeowner will still enjoy the benefits and tranquility that their carpet is covered.
If you want more information on Relax, It's… Lees, visit our stores today in Jacksonville, Orange Park, & Saint Augustine, FL.